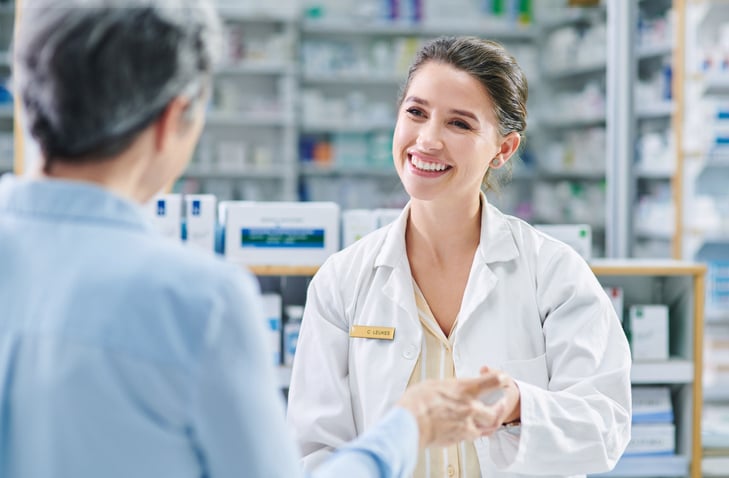 Winning hundreds of awards, breaking the internet, boosting the economy, and even causing earthquakes – Taylor Swift has taken the world by storm. It's so impressive that it makes you wonder, how?
Introducing the Taylor Swift effect
It turns out, America's favorite female musician is extremely trusted by the public, is personable with (and always dropping Easter egg hints for) fans, creates relatable stories, and has been evolving her brand ever since she stepped on stage as a country-singing teen. Trust, big-picture thinking, and evolution – these are the same themes underlying the transformation of pharmacists in the healthcare industry. If you want to keep a pulse on the future of healthcare – the same way you might keep a pulse on the music industry by following Taylor Swift – you need to watch the transformation of pharmacy.
The future of healthcare is human
Discussions around the future of care are often rooted in technology, the digital front door, AI, and telehealth. While these elements are important, the most important factor in the future of healthcare is the people – the patients, caregivers, and healthcare professionals – because, at the end of the day, quality care is about the human touch.
For example, Outcomes collaborated with Caring Wire to allow pharmacists to help patients with needs related to social determinants of health (SDOH). In one of the first few interventions, a pharmacist at a large chain uncovered that a patient needed housing, and immediately provided guidance and local resources to help. Later, the patient returned with gratitude to share that the resources helped to find a safe and stable place to live. The transformation of digital tools and resources is powerful; however, without human intervention in this scenario, the patient could still be lacking housing, safety, and overall well-being.
Pharmacists see the big picture
Studies show that patients with multiple conditions and multiple physicians often fail to report all of their medications to their primary care physician (PCP). Plus, 30% of people with chronic conditions don't even have a PCP. In situations such as these, a pharmacist can connect the dots. Pharmacists have a bird's-eye view of treatment regimens and can typically see all the prescriptions a patient is taking and their adherence levels. Based on their medication expertise, a pharmacist can easily identify opportunities to improve a medication regimen such as seeing a patient is on two interacting medications, taking a dose too high for their age, or failing to titrate doses. Pharmacists work closely with the rest of the care team, so they will inform the prescriber immediately regarding any changes that will help the patient. Beyond the pill, pharmacists are educated and trained on condition management, meaning they will also advise on lifestyle modifications and address SDOH.
Likeability and trust
Year after year, pharmacists are defined as one of the top trusted professionals by Gallup surveys. More specifically, 81% of people trust pharmacists to diagnose and prescribe treatments and 80% of patients see pharmacists as crucial to their care team. The influence of pharmacists being both liked and valued is that likable people are perceived as more persuasive, meaning their input and advice will frequently be acknowledged and respected. This trust is powerful when combined with the convenience of pharmacy locations. Nine out of ten Americans live within five miles of a pharmacy, and for areas considered medical deserts – especially in inner city or rural areas – pharmacists are often the closest healthcare providers.
Evolution of pharmacists
The modern role of pharmacists is much different from where it started (and what many people still think pharmacists do). Gone are the days of pharmacists just filling and dispensing. In 2000, the American Association of College Pharmacy (AACP) made the Doctor of Pharmacy degree (PharmD) the entry-level degree, which means pharmacists receive as much classroom clinical training as medical doctors. As of 2019, 53% of all pharmacists are PharmDs, and that number has only continued to grow. As a result, pharmacists have moved into a more clinical role – from test and treat to immunizations, health screenings, and more.
Pharmacists were widely recognized as playing a major role in mitigating and controlling the COVID-19 pandemic, by providing diagnostic testing, administering vaccines, and prescribing and dispensing antiviral treatment. For example, 90% of COVID vaccines were administered at pharmacies.
Today, pharmacists have provider status in 43 states, conduct medication therapy management, and administer more adult vaccines than physician offices. Although pharmacist scope of practice varies state by state, pharmacists can prescribe Paxlovid in all 50 states, and in certain states can prescribe additional medications (birth control, smoking cessation products, epinephrin, HIV PrEP, and PEP), modify drug therapy, conduct lab tests, and conduct health screenings.
Overall, the trends are moving into pharmacists playing a true provider role on the healthcare team. In fact, as the physician shortage continues to worsen as it approaches a deficiency of 124k physicians by 2034, 72% of physicians say they expect pharmacists to fill more gaps in care.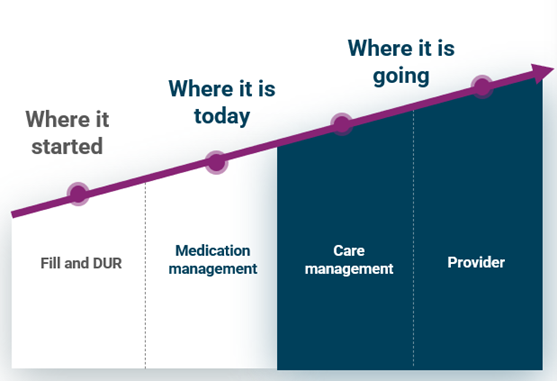 Transformation of brick-and-mortar pharmacies
There's a unique shift in the landscape of pharmacies: they are increasingly becoming clinics. CVS has built out 1,100+ Minute Clinics and hundreds of HealthHubs, plus acquired both Oak Street Health and Signify Health in 2023. Walgreens operates nearly 100 Health Corners, became the majority owner of VillageMD in 2021, and acquired Summit Health in 2022. Similar moves with building and buying clinics have occurred with Kroger, Amazon, and Rite Aid.
This move aligns with the convenience that pharmacies already offer in comparison to physician offices. A 2022 survey confirmed the average wait to see a new physician is 26 days, which is 24% higher than it was in 2004. On the other hand, receiving care at a local pharmacy can often be scheduled same day or offered to walk-ins.
Generational trends to watch
Looking to younger generations to help envision and predict future trends. This trend of care shifting away from physician offices and towards pharmacies is most prominent among younger patients. Younger generations are less likely to have a PCP compared to older generations. For example, only 55% of Generation Z has a PCP compared to 84% of the Baby Boomer generation. In addition, 56% of Gen Z and 54% of Millennials have received healthcare services at a local pharmacy in the past year. It's likely the same reason that 62% of adults prefer vaccination at pharmacies: convenience.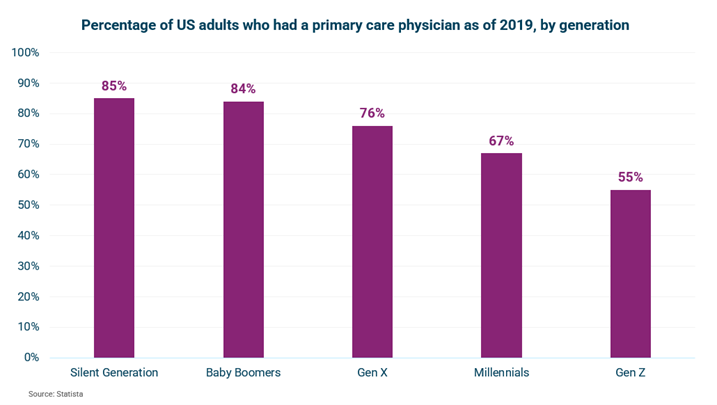 The patient journey is evolving
Three out of four patients want more personalization in their healthcare. Despite modern technology, there are still gaps. For pharma manufacturers specifically, the mix of spend doesn't necessarily align with where patients are influenced. For example, pharma companies spend an average of 55% of their marketing budgets on the HCP audience, yet people typically see their physicians just four times annually and other HCPs up to nine times annually. On the other hand, about 2% is typically spent on pharmacy and people interact with their pharmacist 35-40 times per year. When a brand is hyper-focused on new scripts, prescribers are a crucial audience. However, once the brand becomes more focused on total scripts and patient retention, the pharmacy becomes a more influential channel. Over 50% of people will drop off their prescribed treatment within 12 months, meaning that every single touch point – especially in the first year – is an opportunity to educate, drive adherence, and retain the patient. The strategies for acquisition versus continued adherence are different; The best place to nudge patients and run adherence check-ins is through the pharmacy.
Next steps for pharma
Patient trust is precious. It's hard to come by and even harder to earn. Communicating through people and organizations that patients already entrust makes it easier. There are a number of ways to achieve this and incorporate pharmacists into awareness, access, and adherence strategies:
Dedicate a team member to cultivating pharmacy relationships
Leverage a broad, diverse network of pharmacies – including chains and independents, rural and urban locations, etc.
Educate pharmacists on your brand including how-to-use, data related to outcomes, new indications, and more
Engage patients with education and resources through pharmacy messaging based on patient actions (e.g., new fill ready, refill ready, late-to-fill)
Overcome new-to-therapy barriers and encourage persistence with pharmacist-led clinical interventions
The future of care is increasingly digital and tech-driven, but it is also human. Quality care and positive health outcomes are rooted in human touch and expertise. Therefore, trends related to healthcare providers hold significant weight in the direction of healthcare. As pharmacy continues to grow and change, it will also transform the patient journey.
Pharmacists are experiencing the Taylor Swift effect with their likeability, big-picture strategy, and continuous evolution. While they might not win 12 Grammy Awards in their lifetime or land on the Billboard Top 10, they are certainly creating shockwaves across the healthcare industry. The profession of pharmacy is evolving into a provider role and will continue to expand as pharmacy becomes a destination of care in the modern world.
Subscribe to the pharma blog