The value of pharmacists to pharmaceutical manufacturers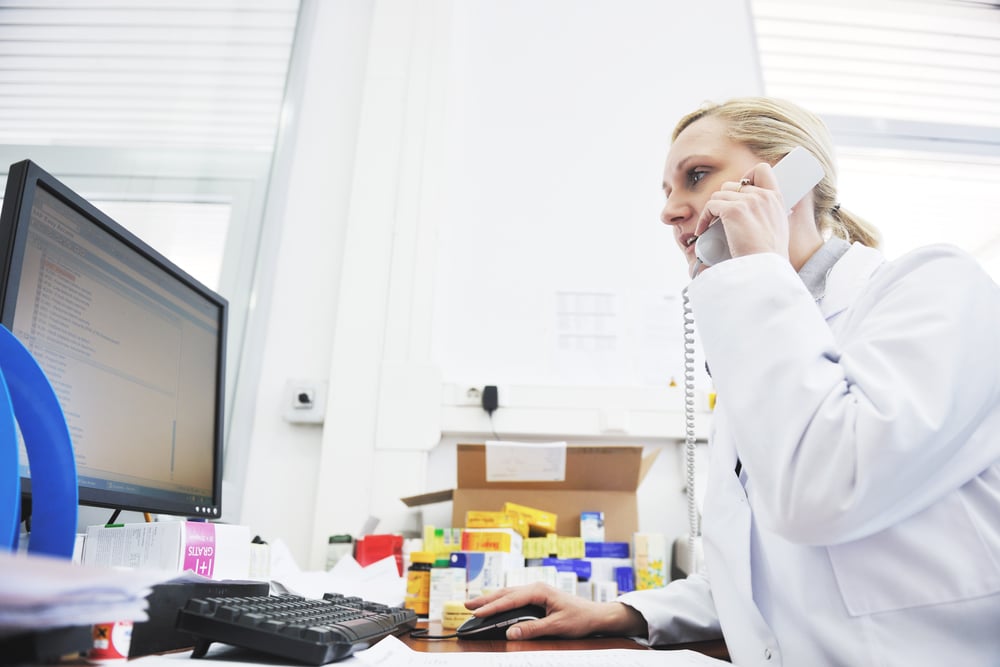 By Patricia Weiser, PharmD
Pharmacists do so much more than dispense medication. Today, pharmacies offer a wide range of convenient healthcare services. Pharmaceutical manufacturers can benefit from partnering with pharmacists to make a bigger impact on patients.
As highly trusted healthcare professionals, pharmacists are experts at identifying barriers to medication adherence and helping patients overcome them. The efforts of a caring pharmacist can greatly impact whether a patient leaves the pharmacy with the information they need to use their medication safely. For instance, pharmacists often communicate with other members of the healthcare team to coordinate prior authorization requests and therapy changes on behalf of a patient or caregiver. As part of their daily workflow, pharmacists are already accustomed to reaching out and following up to see how their patient is doing with their new medication and address concerns.
Leveraging the patient-pharmacy relationship at scale
The mitigation and control of the COVID-19 pandemic are largely thanks to the massive contributions of healthcare workers, including community pharmacists, who worked tirelessly to provide diagnostic testing, administer vaccines, and prescribe antiviral treatment. As quantified by researchers and published in the Journal of the American Pharmacists Association, pharmacy teams are credited with the following:
Administering more than 270 million COVID-19 vaccines from February 2020 through September 2022

Administering more than 50 million influenza and other vaccinations per year

Providing more than 350 million clinical interventions to greater than 150 million people
These numbers illustrate the vast potential and influence of pharmacists and pharmacy technicians. Pharma companies can access and engage patient populations on specific drug therapies at scale via the trusted patient-pharmacy relationship.
Beyond the pandemic, the impact of pharmacies on Americans' health is far-reaching. Pharmacists are one of the most accessible healthcare professionals. In fact, nearly 90% of Americans live within 5 miles of a pharmacy, as verified by a recent study published in the Journal of the American Pharmacists Association. Additionally, pharmacists are particularly influential on patient health outcomes in rural and underserved demographic areas in which the pharmacist may be the only (or one of very few) care providers for miles. In these areas, pharmacists are often a familiar face and the trusted provider from whom patients routinely seek advice. The pharmaceutical industry and policymakers realize that pharmacists serve as a key solution, as they consider the present and future plans for healthcare delivery.
The role of pharmacists is expanding
While the pandemic has highlighted the critical role of community pharmacists, the pharmacy profession has already been evolving and expanding over the past few decades. Currently, 39 states have passed legislation recognizing pharmacists as healthcare providers.
As we look into the future of pharmacy, it is helpful to consider the past and the present. Previously, pharmacists were mainly focused on filling prescriptions and reviewing drug utilization as part of the dispensing process. Today, pharmacy teams are still dispensing but have expanded into many more clinical services, such as immunization, medication management and adherence programs. Pharmacists are actively identifying gaps in care and making therapeutic interchanges when appropriate.
Although some of the following responsibilities vary by state, pharmacists currently have the authority to inject long-acting medications, conduct pharmacogenomics testing, and prescribe medications. In all 50 states, pharmacists have the authority to prescribe naloxone as part of the efforts to combat the opioid crisis. And on July 6, 2022, the Food and Drug Administration (FDA) granted authorization to all state-licensed pharmacists to confirm eligibility and prescribe Paxlovid (nirmatrelvir and ritonavir), an antiviral medication, for the treatment of COVID-19. In addition, pharmacists can now prescribe hormonal birth control in 20 states and counting. Most states also have collaborative practice agreements (CPA) in place between a prescriber and a pharmacist to allow prescribing of other medications, such as pre-exposure prophylaxis (PrEP) to help prevent transmission of HIV.
These are just a few examples of how pharmacists demonstrate their advanced clinical role and ability to impact patients' short- and long-term health outcomes while coordinating with other providers on the healthcare team. As the role of the pharmacist evolves, they become an essential part of care management, from drug regimen optimization and lab interpretation to care plan creation and closing gaps in care.
The U.S. currently does not have enough physicians. The shortage is growing each day, and experts project a shortage of nearly 140,000 physicians by 2030. The good news is that pharmacists are positioned to help with these gaps in care. About 300 published studies show that pharmacist-provided medication management services contribute to significantly improved outcomes across disease management, costs savings and quality of life. Now is the perfect time for pharma manufacturers to partner with Outcomes to advance their brands, engage with patients and improve health outcomes via the patient-pharmacist relationship.
Engage patients prescribed specific therapies
As the nation's most trusted drug therapy experts, pharmacists are uniquely positioned to meet patients where they are and support them along their healthcare journeys. In fact, patients with chronic conditions interact with their pharmacist up to 10 times more than with their primary care physician each year. Automatic refills, 90-day fills, digital apps, text reminders and email communications from pharmacies help patients remember to pick up, take and refill their medications. Pharmaceutical manufacturers can utilize the extensive Outcomes®robust network of 60,000 pharmacists to provide education, access patient populations on specific drug therapies, meet adherence measures, expand brand reach and achieve healthier outcomes.
The Outcomes solution intuitively flags individuals most in need of personalized care, such as medication therapy management (MTM), ensuring pharmacists offer support to the right patients at the right time. MTM is just one example of a pharmacist-led intervention that helps patients get better results from their medicines.
The OutcomesOne platform seamlessly integrates into any pharmacy system, helping pharmacies deliver relevant information to patients at just the right moment to positively influence health outcomes and provide three core drivers of value: Transparency, convenience and control.
For pharma, Outcomes provides solutions for three primary objectives:
Awareness: We help inform patients of medication, supplies and immunizations that may be helpful to their current treatment regimen.
Access: We offer support and connect patients with resources to help them afford their medication.

Adherence: We reach patients digitally and in person to keep them adherent to their brand medication.
Pharma manufacturers can utilize this to relay resources, like education or savings opportunities to patients through the pharmacies' digital communications. With real-time digital integration into our network of pharmacies, your brand can impact more than 40 million patients.
Learn more about how you can leverage the Outcomes pharmacy network to elevate your brand and create healthier outcomes for patients.
Subscribe to the pharma blog