Outcomes to Merge Into TDS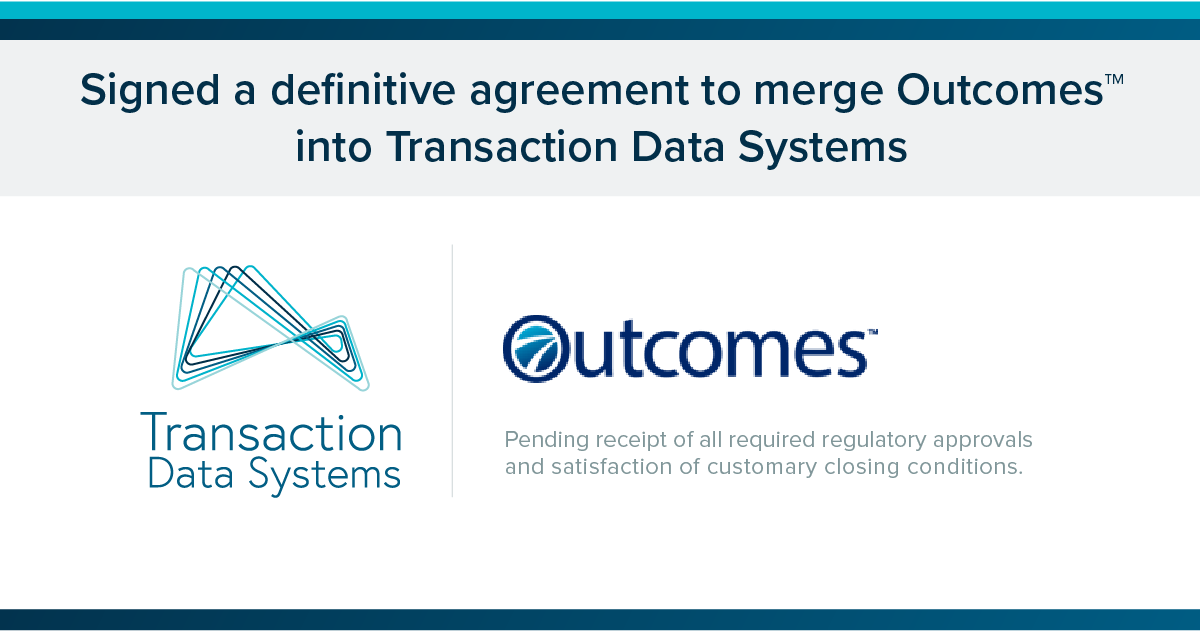 Cardinal Health announces the merger of its Outcomes™ business into Transaction Data Systems and related partnership
Cardinal Health's Outcomes™ business will combine with Transaction Data Systems to offer improved patient engagement and clinical pharmacy solutions, expanding connections between payers and pharma to its nationwide pharmacy network.

DUBLIN, Ohio — June 5, 2023— Cardinal Health (NYSE: CAH) today announced it has signed a definitive agreement to contribute its Outcomes™ business to Transaction Data Systems
(TDS), a portfolio company of BlackRock Long Term Private Capital and GTCR, in exchange for a minority stake in the combined entity. Under the terms of the agreement, Cardinal Health's pharmaceutical segment CEO, Debbie Weitzman, will be appointed to the TDS board of directors.
The transaction will create a broad, integrated offering of pharmacy workflow software with patient engagement and clinical solutions to serve the patient, pharmacy, payer, and pharmaceutical company ecosystem, including one of the nation's largest networks of 40,000 retail, chain and grocery pharmacies. TDS's existing portfolio of clinical pharmacy solutions includes the Rx30 and Computer-Rx pharmacy management systems and PrescribeWellness, its patient communication-pharmacy enablement application. Through its OutcomesOne™ platform, Outcomes offers a portfolio of patient engagement, clinical care, workflow, and financial solutions.
The combined organization will expand upon TDS's existing solutions for delivering clinical care, medication therapy management and diversifying pharmacy revenue streams by adding Outcomes' digital capabilities for patient engagement, virtual verification, order grouping, pill counting, and financial insights. Together, TDS and Outcomes will create additional opportunities for pharmacists to participate in sponsored clinical interventions and better access for payors and pharmaceutical companies to drive better care and outcomes for patients.
"This is an exciting new chapter for our Outcomes business, reflecting our continued commitment to pharmacies as trusted, community healthcare destinations," said Debbie Weitzman, CEO of Cardinal Health's pharmaceutical segment. "Bringing together the powerful connections and unified platform of Outcomes with TDS's best-in-class pharmacy management solutions will enable pharmacies to offer an elevated level of personal care for their patients, operate more effectively and achieve even better clinical and financial results."
"Adding Outcomes to TDS's platform represents a major milestone for optimizing care delivery and maximizing clinical reimbursement in the pharmacy," said Jude Dieterman, CEO of Transaction Data Systems. "Together we can drive more meaningful connections with payers and pharma companies to improve adherence and health outcomes through streamlined programs in pharmacy workflow directly at the point of care."
The transaction is anticipated to close, subject to customary closing conditions and the expiration or termination of regulatory periods, in the third calendar quarter of 2023. Jones Day is serving as legal advisor to Cardinal Health. SVB Securities is acting as financial advisor and Simpson Thacher & Bartlett LLP is serving as legal advisor to Transaction Data Systems.
Contact: TDS, Tycene Fritcher, tfritcher@tdsclinical.com