Q&A with Tim Nguyen, PharmD - California's First Telepharmacy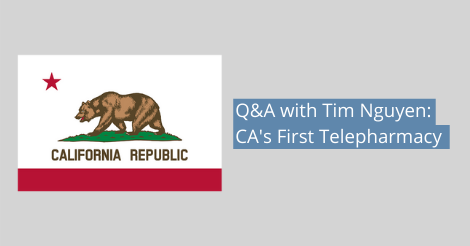 Wait a minute - another "first telepharmacy in the state" article? Yep! While 2020 has been a difficult year for many industries and businesses, it has certainly brought to the forefront the importance of having access to highly trained, knowledgable, and friendly healthcare professionals. No one fits that description quite like pharmacists.
This past year, several states have passed telepharmacy regulations, and more and more pharmacists are implementing telepharmacy as a way to expand their businesses in a cost-efficient manner, while providing convenient pharmacy access to patients in underserved communities.
California's first telepharmacy is owned by pharmacist Tim Nguyen of Lake Pharmacy in Clearlake, California. In December, Tim opened the doors to his new telepharmacy location in Hidden Valley Lake, about 15 miles south of his host pharmacy. Read on to hear Tim's firsthand perspective on why telepharmacy was a good fit for his business as well as the community of Hidden Valley Lake.
What made you decide to implement telepharmacy?
I had been aware of telepharmacy for some time and looked into it because it seemed like the technology was interesting and could really work well for pharmacies looking to expand. However, California is always a bit slow to act on new legislation and is usually pretty strict when new laws get passed, so I didn't think it would be an option for us. But in 2018 they passed telepharmacy legislation and I began to think about it more seriously. When the pharmacy in Hidden Valley Lake closed down in April of 2020 I saw it as an opportunity to expand my business using telepharmacy.
What made Hidden Valley Lake a good location for a telepharmacy?
Our telepharmacy is in Hidden Valley Lake, and it's 14 miles from Clearlake, which is where our host pharmacy is located. Our pharmacy in Clearlake is the closest pharmacy for most of the community of Hidden Valley Lake, so when the pharmacy in town closed last April, they actually transferred a lot of their patients to us.
Unfortunately, people had to drive the 40-minute round trip to get their prescriptions, and it wasn't convenient for them. We were also making deliveries to many of our older patients in the area since they have a little more trouble traveling. We really decided it would be best to lay some roots down and have a physical presence here in the community so we could better serve these patients. I did the research to determine whether there would be ample prescription volume and ultimately decided that, with telepharmacy, the volume of business in this area would be enough to sustain this second location for us.
How long has the telepharmacy been open?
We opened our doors on December 2nd, but we've been letting things flow slowly because we're still waiting on insurance arrangements. We didn't want to host a grand opening and give people a bad first experience with us if we couldn't take their insurance yet. So instead we've been taking a slower approach, transitioning the local patients to this pharmacy and serving the patients we can while we get everything sorted out behind the scenes. For many of our patients who were driving to the Clearlake location, we are using the telepharmacy as a convenient pickup spot for their prescriptions, and trying to find ways to serve the community in the meantime until we are up and running full speed.
Also in the meantime, I've been on-site every day. The plan will be for me and my two other pharmacists to be working in the Clearlake location while remotely verifying and providing counseling for Hidden Valley Lake.
How has the community of Hidden Valley Lake responded to the telepharmacy?
This telepharmacy presents huge benefits to the town, especially because the residents were accustomed to having a pharmacy in town. When it closed, it really left a big gap in the community. It's a rural town without access to a lot of the things we take for granted in the city, so it's very impactful to have a pharmacy conveniently located in town. It would be really hard to open a traditional pharmacy from a financial standpoint, so without telepharmacy, the chances of this town ever having a pharmacy in it again are slim.
What benefits do you foresee the telepharmacy having for your business?
From a business standpoint, telepharmacy was a no-brainer for me. I'm very technology-driven and I see telepharmacy as a way to provide us with more flexibility to grow. It's a win-win with what the law allows and what is ultimately the best case scenario for a business. With a new startup or business expansion, it's all about lowering risk.
California's regulations state that if a telepharmacy averages 225 prescriptions per day or more, then it is required that you put a pharmacist on-site full time. Telepharmacy provides a great stepping stone for us to expand the business and grow before hiring another pharmacist. Right now we're doing about 50-70 prescriptions a day, which would not sustain a full-time pharmacist on-site. If we grow to the point where we have to hire another pharmacist, then telepharmacy ultimately created another job that we wouldn't have been able to create otherwise.
In what ways did the pandemic affect your pharmacy and your pursuit of telepharmacy?
Going into the pandemic there was a lot of uncertainty, but now that we can see the "light at the end of the tunnel" with the vaccine being distributed, I'd say in retrospect we have been really fortunate. Pharmacies were able to stay open and continue to serve patients so we never had to shutter our business. We did have to alter our processes to ensure patient safety and staff safety, as well as implement new rules and processes for time off so staff could quarantine if they'd been infected or exposed.
In an effort to be fair to our employees, we really expanded our time off policies so they could take the necessary time off without losing out on pay. That definitely impacted our payroll over the course of the year, but people are our most important asset, so it's a price worth paying to make sure they're taking care of themselves and their families.
As far as the process of pursuing telepharmacy goes, I'd say the pandemic technically didn't affect us considering the previous pharmacy in Hidden Valley Lake closed during the pandemic in April, and we really went through the entire telepharmacy process all within the course of the pandemic. Even with our extra expenses and headaches brought on by COVID-19, all along we still saw telepharmacy as a worthwhile investment for the business.
Are you going to be vaccinating at your pharmacy? What role will telepharmacy play?
I recently signed up for us to get the vaccine, so we're gearing up to be ready for that soon. The pharmacists in our company are all proactive and want to help take on this issue, so we're working together to figure out the best plan to administer as many vaccines as possible.
I think in a few weeks or so, we'll be in a good position to have one of our pharmacists focus solely on immunizations while the other two verify prescriptions for both locations using telepharmacy. It really allows us to be flexible and meet the challenges ahead with more options than before.
How do you see pharmacy (in particular telepharmacy) changing after the pandemic?
I think the pandemic has really catapulted technology use, both overall and specifically in the healthcare world. I think this will ultimately benefit the field of telepharmacy as well as more states implement regulations allowing the practice.
Can you speak to your experience with TelePharm specifically?
I have been so impressed with TelePharm. All my interactions, from the sales process, to onboarding with the customer success team have all been great. The software is so well-developed and easy to use, it fits right in with our current workflows and systems and really helps us hit the ground running from day one.
Are you a pharmacist in California who is interested in pursuing telepharmacy? Check out the regulatory overview in CA by clicking below:
If you're a pharmacist in another state, no worries - you can find your state's regulatory overview by clicking here.
Subscribe to the pharmacy blog